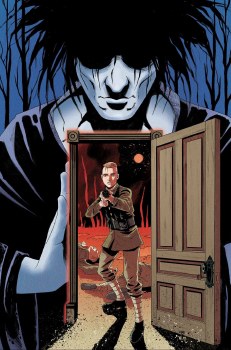 Locke & Key Sandman Hell & Gone #1 Megan Hutchinson Color Virgin Variant
$19.99
Locke & Key Sandman Hell & Gone #1 Megan Hutchinson Color Virgin Variant

PRE-ORDER ITEM until April 14th. 1000 copy print run.

As an authorized seller of 616 Comics Variants, you can expect this item to ship within 1-2 weeks of the release date.

(W) Joe Hill, Neil Gaiman (A/CA) Gabriel Rodriguez


If you think you can unlock the gates of Hell and just invite yourself in, you must be Dreaming!
The epic crossover between two of the most beloved fantasy universes in comics begins here. John "Jack" Locke is ten years dead, but that hasn't stopped him from posting the occasional letter home... from Hell. Now Mary Locke will do anything to save her brother's soul, including cut a deal with Roderick Burgess-the most evil man in England-to search for answers in the House of Mystery and risk the walking nightmare known as the Corinthian to find help in a disintegrating Kingdom of Dreams!


We guarantee 9.2+ condition of book unless otherwise stated. We can not guarantee 9.8 grades on raw books. All street dates and art are subject to change by publishers.
DCDIOC - 18991230RD - 18991230