Generation Zero #1 Cvr A Mooney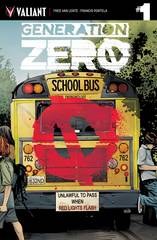 Valiant
Generation Zero #1 Cvr A Mooney
Description
(W) Fred Van Lente (A) Francis Portela (CA) Stephen Mooney. Because you demanded it! Exploding out of the pages of HARBINGER WARS comes AN ALL-NEW ONGOING SERIES starring GENERATION ZERO from New York Times best-selling writer Fred Van Lente (ARCHER & ARMSTRONG* IVAR* TIMEWALKER) and blockbuster artist Francis Portela (FAITH)! If you have a problem... If your parents won't help... And if your cause is worthy... Log onto network #ZERO... because Generation Zero is listening. Years ago* the children of the experimental strike team known as Generation Zero were taken from their families by Project Rising Spirit* a private weapons contractor* and raised to be psychic soldiers. After years of taking orders* they have fought for and won their freedom. Now* the world's most wanted teenagers have pledged to protect each other tooth and claw* while using their extraordinary abilities to right wrongs for a generation without a future... To fight for kids* just like them. One of those kids is Keisha Sherman* whose boyfriend just turned up dead after a suspicious car crash in Rook* Michigan a newly booming tech town that sprang from rags to super-riches seemingly overnight. When Keisha makes a desperate plea into her webcam* the local high school suddenly finds itself with several unusual new students... But as word of Generation Zero's presence spreads rapidly through the halls* this volatile band of teenage upstarts is about to discover that they're far from the most extraordinary thing lurking behind Rook's stainless-steel facade..
Disclaimer: - Comic cover art is provided by the publisher and is subject to change. Comics will have "Trade Dress" (Title, issue number, barcode, etc.) unless specifically noted. - Please note Shipping Dates. If an order includes items with mixed shipping dates, the order will not be fulfilled until all items are received by the distributor. If you wish to receive an item(s) per the shipping dates, please make sure to place separate orders accordingly. - Items are subject to delay from estimated shipping dates. Factors include: receiving damaged stock from the distributor, mail carrier conditions, or unexpected high volume of orders. - Please note* All comics marked as "Preorder" are not available to be cancelled or refunded. - Store exclusives are also not available to be cancelled or refunded, please be sure to double check your order before completing your purchase. - Condition is not guaranteed – we do our best to provide the most optimal condition possible, however between printing mechanical errors, distribution shipping and handling, etc., it is impossible to guarantee a flawless comic every time. You should expect a condition grade of at least a 9.2 or higher unless specifically noted on new titles. Possible admissible defects include: printer burn, cover art and trade dress not perfectly centered, minimal wear, or other conditions out of our control.
PODConv:
POSRaw: 18991230
Why use our online comic book store?
Careful Shipping
We love comics and we treat your comics as if they were ours. All comics are shipped bagged and boarded, packaged tightly, and mailed in incredibly sturdy boxes.
Friendly Service
We pride ourselves on being a friendly comic book store. If you have a question or problem you can reach us anytime by email or Facebook and we'll quickly respond to your inquiry!