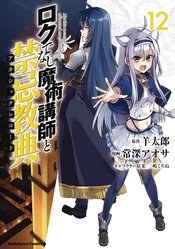 Akashic Records Of Bastard Magical Instructor Gn Vol 12 (C:
$12.99
(W) Tarou Hitsuji (A/CA) Aosa Tsunemi. Sisti is a young magic-user in training who attends prestigious magical academy where she hopes to be trained by the best of the best. However* when her instructor suddenly retires* his replacement is anything but what Sisti had hoped for lazy* incompetent* and always late! Can Sisti still learn magic and unravel the mystery of Sky Castle with such a terrible teacher to lead her?
Disclaimer: - Comic cover art is provided by the publisher and is subject to change. Comics will have "Trade Dress" (Title, issue number, barcode, etc.) unless specifically noted. - Please note Shipping Dates. If an order includes items with mixed shipping dates, the order will not be fulfilled until all items are received by the distributor. If you wish to receive an item(s) per the shipping dates, please make sure to place separate orders accordingly. - Items are subject to delay from estimated shipping dates. Factors include: receiving damaged stock from the distributor, mail carrier conditions, or unexpected high volume of orders. - Please note* All comics marked as "Preorder" are not available to be cancelled or refunded. - Store exclusives are also not available to be cancelled or refunded, please be sure to double check your order before completing your purchase. - Condition is not guaranteed – we do our best to provide the most optimal condition possible, however between printing mechanical errors, distribution shipping and handling, etc., it is impossible to guarantee a flawless comic every time. You should expect a condition grade of at least a 9.2 or higher unless specifically noted on new titles. Possible admissible defects include: printer burn, cover art and trade dress not perfectly centered, minimal wear, or other conditions out of our control.
DCDIOC - 20210604RD - 20210811