A&A Adv Of Archer & Armstrong Tp Vol 01 In The Bag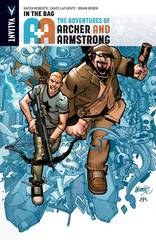 Valiant
A&A Adv Of Archer & Armstrong Tp Vol 01 In The Bag
Description
GET SMASHED...OR BE SMASHED! Archer is about to set off on his most dangerous mission yet - a quest into the mystic reaches of Armstrongs bottomless satchel to liberate his friend and comrade from the clutches of the mad god Bacchus! Imprisoned in Armstrongs satchel for centuries, Bacchus now commands a legion of monsters, goblins and golems bent on escaping back into the world of man and enacting revenge on their captor... Can Archer single-handedly combat the godly embodiment of intoxication himself - and rescue his best buddy - without becoming lost amongst Armstrongs endless repository of bizarre artifacts and historical oddities in the process? Collecting A&A: THE ADVENTURES OF ARCHER & ARMSTRONG #14.
Disclaimer: - Comic cover art is provided by the publisher and is subject to change. Comics will have "Trade Dress" (Title, issue number, barcode, etc.) unless specifically noted. - Please note Shipping Dates. If an order includes items with mixed shipping dates, the order will not be fulfilled until all items are received by the distributor. If you wish to receive an item(s) per the shipping dates, please make sure to place separate orders accordingly. - Items are subject to delay from estimated shipping dates. Factors include: receiving damaged stock from the distributor, mail carrier conditions, or unexpected high volume of orders. - Please note* All comics marked as "Preorder" are not available to be cancelled or refunded. - Store exclusives are also not available to be cancelled or refunded, please be sure to double check your order before completing your purchase. - Condition is not guaranteed – we do our best to provide the most optimal condition possible, however between printing mechanical errors, distribution shipping and handling, etc., it is impossible to guarantee a flawless comic every time. You should expect a condition grade of at least a 9.2 or higher unless specifically noted on new titles. Possible admissible defects include: printer burn, cover art and trade dress not perfectly centered, minimal wear, or other conditions out of our control.
PODConv:
POSRaw: 18991230
Why use our online comic book store?
Careful Shipping
We love comics and we treat your comics as if they were ours. All comics are shipped bagged and boarded, packaged tightly, and mailed in incredibly sturdy boxes.
Friendly Service
We pride ourselves on being a friendly comic book store. If you have a question or problem you can reach us anytime by email or Facebook and we'll quickly respond to your inquiry!